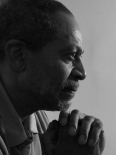 Jim Cummins is Senior Associate, Strategic Visual Communications, for Tranquility49 PR. Cummins received his early training at the New York City High School of Music and Art, the School of Visual Arts, the Art Students League and the Museum of Modern Art. He served in the US Marine Corps during the Vietnam War as a combat illustrator and draftsman. He has since earned a reputation as one of the leading photojournalists, videographers and imaging technology experts in the United States.
Cummins won a National Magazine Award for his cover-design concepts at Newsweek. He also served as the founding art director and photographer for Black Enterprise magazine.
His extensive work in Jazz, Rock, Pop, Soul and R&B photography was done on a contract basis for the Atlantic, Columbia, London, Mercury, Savoy and Springboard record labels, as well as during his career in photojournalism for The New York Times and New York Newsday. He also acted as staff photographer for the National Basketball Association. He has a longtime association with Rubenstein Associates, NYC, as a publicity photographer. For six years he was the official staff photographer/videographer at Stevens Institute of Technology in Hoboken, N.J. Cummins acts as a technical consultant to Canon USA and Sony, and he is the author of many technical assessments of photo/video technology for the trade media. He is a founding partner of Tranquility49 LLC.
Cummins has co-authored and been the photographer for several books including "Led Zeppelin II," "Led Zeppelin: Good Times, Bad Times," "Courtside – The Fans Guide To Pro Basketball," and "Jimi Hendrix: Voodoo Child of The Aquarian Age." He also taught photojournalism at Seton Hall University and at John Jay College and continues to be a pioneer in the field of photojournalism, bringing his exceptional sense of style and photo composition to the world of digital photography.