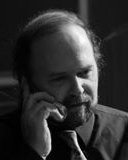 Patrick A. Berzinski is Founder & CEO of Tranquility49 PR. Berzinski has worked in a variety of media during a career spanning more than 25 years. His principal medium is the written word, and his literary and expository writing have been the vehicles that have led to work in radio, video, web, public and media relations, and networking for business development. From 2000 to 2010 his work was primarily in institutional communications for Stevens Institute of Technology in New Jersey, USA, where he most recently served as Executive Director of University Communications. He had previously acted as Associate Director for Media Relations. After Stevens, he was appointed Vice President, Business Development, at Dash Media PR in New York City, where he later served as a Senior Consultant. In 2010, Berzinski founded Tranquility49 LLC, which operates through the brand platforms Tranquility49.com, Tranquility49.us and Tranquility49 PR.
He is a member and past co-chair of the board of directors of the Science Writers in New York, a past member of the Public Relations Society of America, and sits on the Advisory Board of the executive search firm Kulper & Company, LLC. He is also a member of the Society of Professional Journalists, USA.
Berzinski's feature articles and op-eds, under his own byline and others, have appeared in The Houston Chronicle, The Los Angeles Daily News, Investor's Business Daily, The Star-Ledger, The Asbury Park Press, SSoE InFocus, The Stevens Indicator, The Howe School Forum, The Innovation & Technology Management News, and NJ TechNews. He has been quoted on a variety of media topics in publications such as The New York Times, The Philadelphia Inquirer, The Baltimore Sun, PR Week, and The Bulldog Media Relations Insider, and appeared as a commentator on AT&T Tech Channel. Berzinski attended Upsala College in the 1980s and was a late-night broadcaster at its legendary radio station, WFMU-FM.