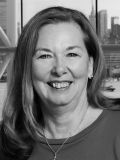 Sharen Glennon is Senior Associate, Higher Education and Corporate Outreach, for Tranquility49 PR. Glennon has more than 25 years of experience in marketing communications for nonprofit organizations, specializing in higher education programs at the graduate level. For the past dozen years she served as Assistant Director and then Associate Director of Marketing for the Wesley J. Howe School of Technology Management at Stevens Institute of Technology. She has extensive experience in marketing and sales of master's and doctoral programs targeted to corporate institutions and working professionals. Her areas of marketing expertise include programs in Financial Engineering, Information Systems Management, Project Management, Technology Management, Telecommunications Management, and Healthcare Leadership Management.
Glennon has developed strategic working relationships with corporate entities such as AT&T, Alcatel Lucent, ExxonMobil, and Unilever. She has directed and participated in the creation of marketing tools such as web pages, videos, brochures, catalogues, and newsletters. She is an expert in the planning of events for recruitment purposes.
Glennon has also acted as the Executive Coordinator of the Howe School Alliance for Technology Management, charged with recruitment and maintenance of up to 12 corporate partners, who also serve as members of the Alliance Advisory Board. She has strategized and executed the Alliance Annual Conference for more than a decade. Glennon is a past member of the British-American Business Inc. Marketing and Communications Roundtable, a current member of the New Jersey Technology Council, and a founding partner of Tranquility49 LLC. She holds a master's degree in Management from Stevens Institute of Technology.