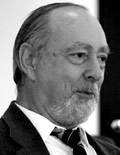 Silvio Laccetti, Ph.D., had a long and varied career during his four decades as a Professor of Humanities and Social Sciences at Stevens Institute of Technology. His academic expertise lies in the areas of urban history and the problems of modern urban society, with a focus on public policy and leadership studies. Laccetti has published five books, including two on New Jersey public policy, and he is the author of numerous articles and national op-eds.
Redefining the professor's role from a class-room presence to a force for community outreach, Laccetti has directed numerous urban policy and social service programs, ranging from a model national drug-abuse education program, to recreation studies, environmental rehab of brownfield industrial sites and governmental reform activities.
In the business and entrepreneurial realms, Laccetti consulted for a number of years as a Stevens Institute special representative on issues confronting American manufacturing in the global economy, as well as acting as an advisor to professionals in the publishing and transportation industries.
Laccetti has been a prolific and widely read editorial columnist in his home state of New Jersey and across the nation. His columns are noted for their humorous logic, lyrical style and an examination of often underreported and off-beat topics in the news. His most recent book, "An American Commentary," featuring 60 of his syndicated opinion pieces, written between 2001-2013, was published in 2014 and is available from qjbooks.com.
At Tranquilty49, Laccetti serves as a Senior Consultant on public policy and urban society.
Laccetti holds a doctorate in History from Columbia University.