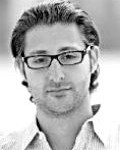 The Emmy Award-winning producer was born in 1978 in Brooklyn and raised in Staten Island. After graduating from Syracuse University, Stahl ventured into the publishing industry, creating advertisements at Gannett's USA Weekend. His career took off when he met magazine entrepreneur, and mentor, Bob Guccione Jr. at Gear in 2002. Since that time, Stahl has been involved with creating and researching editorial, marketing, advertising, publicity, circulation, business development, and online initiatives for various print and digital media companies he has worked for, including analyzing media companies to determine their viability for acquisition.
In 2005, as part of the original management team that formed Discover Media LLC, Stahl assisted in acquiring the science magazine Discover from Disney Publishing Worldwide.
Stahl was also the launch editor of the city magazine and hyperlocal news website, Hoboken Digest and NearSay.com, respectively. As a side project, Stahl launched the aptly named Creative Community magazine for the Community Roots Charter School in Brooklyn, as part of an afterschool program teaching Intro to Magazines to elementary school children.
In 2013 Stahl was brought on board at Downtown magazine as the Executive Editor to rebrand a magazine in the growing luxury category. The staff was lean and resources were tight. However, Stahl created a business plan to increase the frequency of the luxury publication from quarterly to bimonthly and also made the magazine run more efficient by creating a workable production calendar for the magazine. Part of the redesign was incorporating new and renamed sections. Stahl also had the opportunity to interview all of the 2013 New York City mayoral candidates.
Stahl subsequently moved on to NBC Sports as a Producer for NBCOlympics.com, garnering himself a Sports Emmy Award for his coverage of the 2014 Winter Olympics, interviewing the world's greatest freestyle skiers, snowboarders and curlers.
Stahl is the co-author and co-editor of 20 Things You Didn't Know About Everything: Duct Tape, Airport Security, Your Body, Sex in Space… And More. The book is based on the column of the same name, "20 Things You Didn't Know About" that he relaunched at Discover. 20 Things was featured on 60 Minutes.
His wide-range of writing has appeared in an array of print and digital publications including the New York Daily News, New Jersey Monthly, DC Magazine, Competitor, Discover, MensFitness.com, FoodRepublic.com, DiscoverMagazine.com, Where NY, Media, Star, Gear, New York Press, Life & Style, Big Apple Parent and a weekly column in Patch.com.